La Petite Fourchette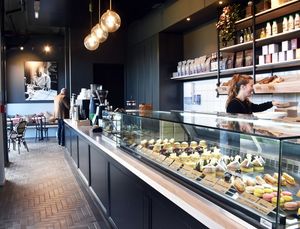 In 2016 they set up a patisserie kitchen in their restaurant, La Fourchette and rapidly started developing their own range of patisserie. By May 2018, La Petite Fourchette in Wynyard Quarter was born. Having outgrown the space in the restaurant, it was now time to setup a dedicated Patisserie Lab where customers could come and see the magic happen.
Inspired by the authentic French "Boulangerie-Pâtisserie" that you find in any town in France, La Petite Fourchette brings a little touch of France right to the heart of Auckland City. The French Chef Pâtissier, Vatthana Boulom, works with his team to deliver fresh product daily and to create an innovative collection of patisserie and savoury goods that change with the seasons. Offerings include modern takes on La Foret Noire and mille feuille along with vintage classics such as Paris Brest or a flan – just like grandma used to make.
This is served alongside fresh sandwiches, panini, quiche and croque monsieur – so all your lunch cravings are covered. All the gourmet delights whether sweet or savoury are made with quality ingredients and pay homage to traditional French cooking techniques
La Petite Fourchette
Wynyard: G02/85 Daldy Street, Auckland
Monday - Friday | 7am - 3pm
Saturday - Sunday | 7:30am - 2pm
Phone:(09) 869-3360
Email:wynyard@lapetitefourchette.co.nz
Britomart: 9 Britomart Place, Auckland
Monday - Friday | 7am - 3pm
Saturday & Sunday | 8am - 3pm
Phone:(09) 309-0961
Email:britomart@lapetitefourchette.co.nz
SOCIAL MEDIA: