Best French Bakery
Ma Petite Bakery
Thomas Holleaux - Chef and founder of Ma Petite Bakery discovered the bakery business he was only 15! He studied the French baking techniques in France, then perfected his skills at renowned bakeries and pastry shops as well as Michelin Star restaurant before moving across the world. After teaching patisserie and bakery in Wellington and having always dreamt of opening his bakery, he finally embarked on the new journey in Rolleston, Canterbury earlier this year.
Ma Petite Bakery is the new French-New Zealand concept. Think of the traditional French bakery and patisserie that you might find on the streets of Paris, but this time featuring New Zealand products and modernised for our time – all in a typical New Zealand neighbourhood.
Ma Petite Bakery
Shop 4/57 Tennyson Street, Rolleston 7614
sales@mapetitebakery.co.nz
+64 21 192 5595
SOCIAL MEDIA
Vaniyé Patisserie
Vaniyé is a modern contemporary French Patisserie founded by Laurent and Sonia Haumonte. Their passion for this artisanal culinary heritage translates into an array of beautifully aligned products upon entering into the small tucked-away boutique: exquisite French style cakes, artisan chocolates, delicate desserts, croissants, and baguettes.
At Vaniyé it's not just about the products, but also the preservation of exceptional artisan techniques and skills, the attention to the ingredients and their origins, the understanding of the impact on the environment, and the interest in personal development and wellbeing of its people to build a positive company culture and a welcoming place for our community.
Vaniyé Patisserie
1/7 Windsor St, Parnell, Auckland
Open Tuesday to Saturday, 8am - 4pm
Delivery Tuesday to Friday, 9am - 4:30pm
+64 (0)204 179 1296
SOCIAL MEDIA
La Petite Fourchette
French-Kiwi couple and owners Natalie and Romain Le Gal always had a dream to bring the flavours and traditions in French patisserie to the New Zealand market. In 2016 they set up a patisserie kitchen in their restaurant, La Fourchette and rapidly started developing their own range of patisserie. By May 2018, La Petite Fourchette in Wynyard Quarter was born. Having outgrown the space in the restaurant, it was now time to setup a dedicated Patisserie Lab where customers could come and see the magic happen.
Inspired by the authentic French "Boulangerie-Pâtisserie" that you find in any town in France, La Petite Fourchette brings a little touch of France right to the heart of Auckland City. The French Chef Pâtissier, Vatthana Boulom, works with his team to deliver fresh product daily and to create an innovative collection of patisserie and savoury goods that change with the seasons. Offerings include modern takes on La Foret Noire and mille feuille along with vintage classics such as Paris Brest or a flan – just like grandma used to make.
This is served alongside fresh sandwiches, panini, quiche and croque monsieur – so all your lunch cravings are covered. All the gourmet delights whether sweet or savoury are made with quality ingredients and pay homage to traditional French cooking techniques
La Petite Fourchette
Wynyard: G02/85 Daldy Street, Auckland
Monday - Friday | 7am - 3pm
Saturday - Sunday | 7:30am - 2pm
Phone:(09) 869-3360
Email:wynyard@lapetitefourchette.co.nz
Britomart: 9 Britomart Place, Auckland
Monday - Friday | 7am - 3pm
Saturday & Sunday | 8am - 3pm
Phone:(09) 309-0961
Email:britomart@lapetitefourchette.co.nz
SOCIAL MEDIA:
---
Monsieur Macaron

Who better than Ben PALLAIS to give you a presentation of Mr. Macaron!
"Kia Ora, Bonjour,
My name is Benjamin but everybody is calling me Ben.
I created Monsieur Macaron in 2015 in Napier and we specialise in Macarons and french pastries. Only the good stuff!
My team and I are fully dedicated, passionate french artisans, working hard every day to bring happiness to Hawke's Bay families.
We supply french cafes all around the country but the best way to find us is to come to the Hawke's Bay Farmer's Market every Sunday morning. We are also proud to provide a "Saturday Home Deliveries" service for the Hawke's Bay community. Delivering fresh croissants and french pastries directly to hundred family doors before they wake up.
This Unique Experience is our way to say MERCI to be part of the Hawke's bay community.
We are based in Hawke's Bay but are not only working locally, we would love to hear from you if you are interested to know more about our products and how we operate.
Let us know when you are in the Bay!
Ben."
Monsieur Macaron
13 Thorn Place, Onekawa, Napier 4110
0210 822 0001
macaron.monsieur@gmail.com
SOCIAL MEDIA:
---
Paneton Bakery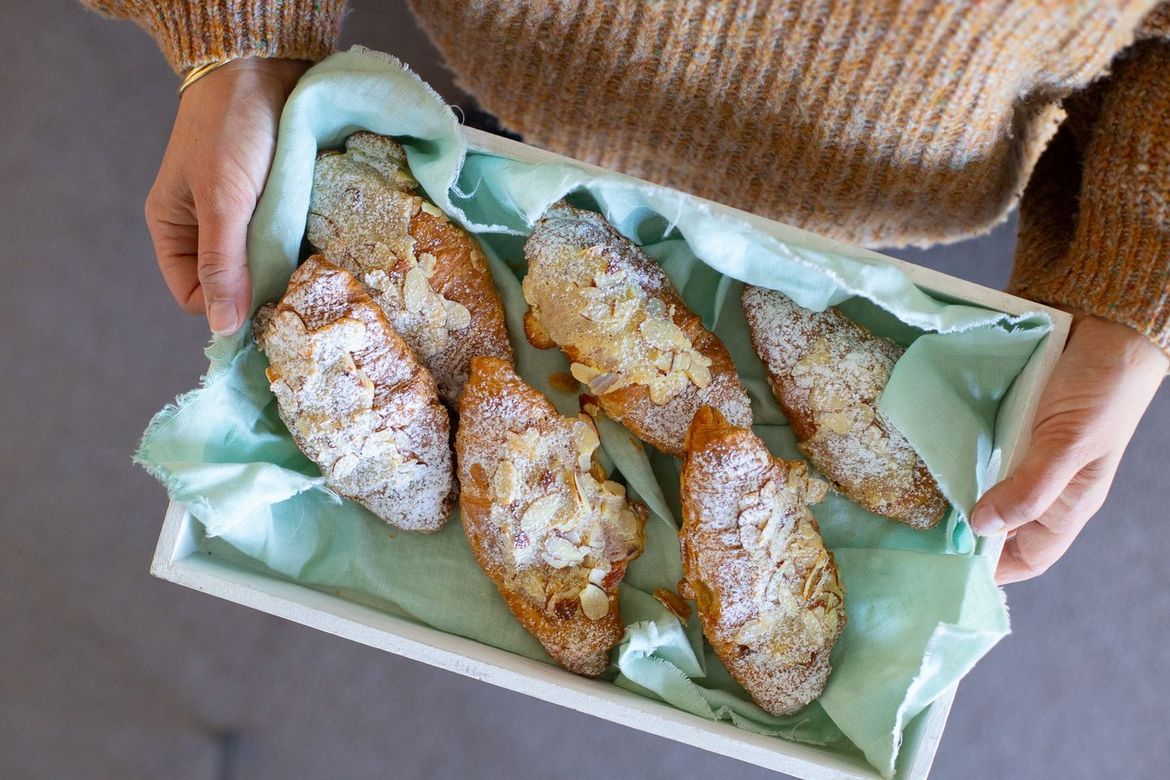 It's a story of love, french baking, and the love of french baking!
Dominique Colombie learned the art of making pastry from his father, whose Patisserie Colombie was an institution in the village of Montesquieu-Volvestre in South-west France. He later met his wife to be Celia Elder, in Paris. She too shared his love of fine French cuisine and together they dreamt of one day establishing a business in New Zealand inspired by their passion for French baking.
Returning to NZ in 1986 they set up La Tarterie in Khyber Pass in Newmarket, Auckland specialising in savory tartes (quiches) and sweet tartes (lemon, almond etc.) Their hard work paid off, and with total customer focus and quality baking, their little cafe became so popular there was often a queue out the door! Their quiches and croissants became rightfully famous.
Today, Paneton enjoys success as NZ's leading French Bakery combining the best traditional French baking with the best New Zealand ingredients. They have built on their range of traditional French bread and patisseries by now offering Ready to Rise (frozen) pastries and Ready to Bake (parbaked) breads for the convenience of customers anywhere in New Zealand.
Paneton
Address: 1/21 Halsey St, Freemans Bay, Auckland
sales(@)panetonbakery.co.nz
(09) 3095338
We are delivering to Auckland areas on the following days:
Sunday/ Monday – No delivery
Tuesday – North Auckland
Wednesday – Central Auckland
Thursday – West Auckland
Friday – South and East Auckland
Saturday – Central Auckland
SOCIAL MEDIA