Tenders & Business opportunities • Event report • Events • Webinar • Conference & Seminar
Throwback - Bastille Week: Business opportunities between New Zealand and New Caledonia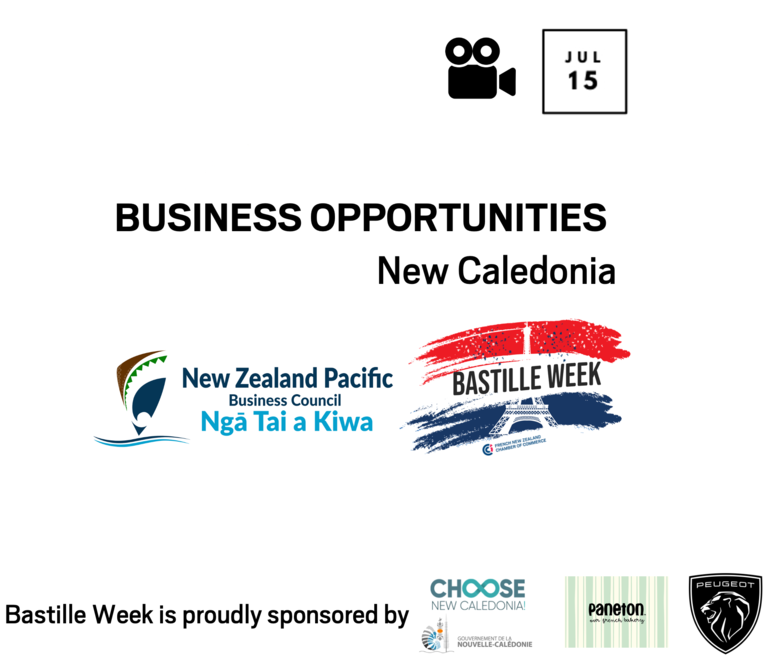 Webinar: identifying opportunities to develop trade or find investment in New Caledonia.
The New Zealand Pacific Business Council (NZPBC) in conjunction with the French New Zealand Chamber of Commerce and Industry (FNZCCI) hosted a one hour webinar with Q & A to hear from market experts from New Caledonia including presentation from the Loyalty Islands and New Zealand.
The purpose of this webinar was to provide an understanding of the business opportunities available and the "dos and don'ts" of conducting business in this region. The panel of speakers consisted of government and private sector who provided an overview of the current economic climate and the tools needed to enter this market.
This was a free webinar and the target audience was businesses (all sizes) currently or potentially wanting to do business in New Caledonia, looking for market opportunities /investing and wanting to know how to do business in New Caledonia.
SPEAKER PROFILES
Ms. Maeva Leroux
Head of the Internal Market and Investments Department
Choose New Caledonia
Created in 2020, Choose New Caledonia! is a government body in charge of promoting New Caledonia abroad as an economic destination, as well as providing information and support to foreign investors wishing to do business in the country.
With an agronomy engineering diploma, Maéva worked for six years in the South Province at the Department of rural development and sustainable development. She joined the Economic Affairs Department of the Government of New Caledonia in 2018 and is now part of the "Choose New Caledonia!"
CCI Nouvelle-Calédonie
The CCI-NC's mission is to represent and defend the interests of entrepreneurs, to support the creation and development of businesses, to develop the training of young New-Caledonians through appropriate structures and to manage infrastructures, as well as to participate in economic development of the country.
Mrs Emélie Héa Katrawi
Chargée de Mission for Partnerships, External Relations, Protocol
Loyalty Islands Province Secretariat
Mrs Emélie Héa KATRAWI, as Chargée de Mission for regional cooperation, external relations, the protocol of the Executive General Secretariat of the Loyalty Islands Province, is responsible for setting up multi-sector partnerships and agreements with the countries of the Pacific region and the organization of the protocol for the President of the province of Loyalty Islands.
She has a 10-year strong experience working in regional cooperation, particularly in the field of cultural outreach which includes assisting and supporting local people with business development on customary lands.
She is also committed to promote work equality for women and men and their respective responsibilities. She is married with two children. Emélie loves nature, living in harmony with her natural environment and consuming healthy products.
Mrs Isabelle LARAN
Choose ProvinceSud! referent,
Investors Office at the South Province
Isabelle has 28 years of financial background and experience in economic development (including 20 in New Caledonia), whether through the support of companies or within intuitions. Working with the South Province of New Caledonia, she has a good knowledge of the New-Caledonian economic stakeholders.
Chris Freer
Business Development Manager
Tonkin + Taylor International
Chris Freer, T+T's Pacific Business Development Manager, senior geotechnical engineer and project director, has been appointed as a Fellow by Engineering NZ. Chris is deeply passionate about improving the economic and social wellbeing of Pacific Island nations as evidenced by his 30-year career in the region.
Chris' contribution to, and involvement in, engineering, disaster remediation, water resources and climate change resilience projects in the Pacific include upgrades of Faleolo International Airport in Samoa, Bauerfield International Airport in Vanuatu and multiple infrastructure projects from Papua New Guinea to Pitcairn Island.
Scott James
Market Manager, Australia and Pacific
New Zealand Trade & Enterprise
Scott is the Market Manager for Australia and the Pacific, for New Zealand Trade and Enterprise. New Zealand Trade and Enterprise is New Zealand's international business development agency. NZTE's role is to help New Zealand businesses grow into international markets.

NZTE sits as ex-officio on the New Zealand Pacific Business Council working jointly to support companies doing business in the Pacific.

Scott has been with NZTE for the past eight years predominantly working directly with New Zealand companies operating across the globe. Scott now works directly to support companies with growth ambitions in Australia and the Pacific.
Bastille Week is proudly sponsored by Choose New Caledonia with New Caledonia Government, Paneton, Peugeot.