Members Energies renouvelables - Développement durable - Environnement
Member News - VINCI Environment Awards for the Oceania region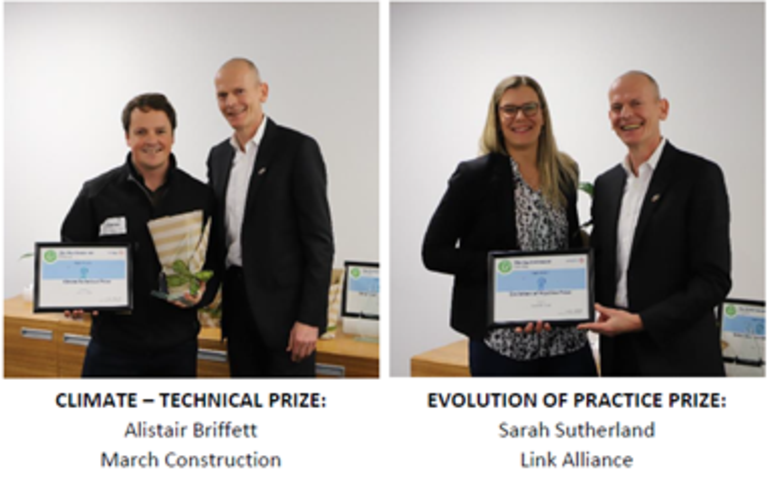 The VINCI Environment Awards for the Oceania region came to a grand conclusion with ceremonies held in New Zealand at Electrix's head office.
Celebrating VINCI Environment Awards success in Oceania
In September 2020, VINCI launched the Environment Awards, calling for employees across the world to share initiatives which will reduce greenhouse gas emissions by acting for the climate, optimising resources through a circular economy, and preserving the natural environment.
https://www.vinci.com/vinci.nsf/en/item/environment_awards.htm
Staff from VINCI's subsidiaries submitted their ideas to a shared Environment Awards platform where employees voted on their favourite ideas from within their region.
Nominated 'experts' from each VINCI company within the region reviewed the submissions and put forward a shortlist for a jury to review. The appointed jury then reviewed the submissions, selecting nine winners within Oceania.
The nine awards were presented with the winners showcasing VINCI's depth of expertise across the region. The award-winning initiatives included:
• HEB Construction's 'Tunnel 21' team won the Technical Prize in the Natural Environment category for their initiatives which protect wildlife, vegetation, and the landscape.
• A collaborative team of staff from HEB and March Construction won the Technical Prize in the Circular Economy category for their resourceful idea to reuse waste demolition rubble as stone aggregate.
• The second prize in the Circular Economy category - Evolution of Practice, also went to a New Zealand-based recipient with an idea focussed on demolitions. Sarah Sutherland of Link Alliance (City Rail Link Project) received the prize for their sustainable approach to demolition.
• Finau Fonua of Electrix won the Simple & Efficient Prize for his unique idea of reducing corrosion of tower steel by utilising drainage systems.
• Winyfred Luc of Axians New Caledonia won the Jury Prize for designing a connected beehive system which protects nature by promoting the pollination of plants.
• Omexom's Australian Capital Territory (ACT) Smart Lighting, Evolution of EPC Contracts won the Climate Change 'Technical Prize' for taking action to combat and adapt to climate change.
• Omexom received a 'Special Prize' for their Portable Generator Replacement Program.
• Bachy Solentanche won the 'Evolution of Practice' for their initiative to reduce CO2 in cement production in the Climate Change category.
• Seymour Whyte's high-efficiency sediment basins (HES) won the 'Evolution of Practice' in the Natural Environment category.
This range of award-winning initiatives highlights just some of the great ideas coming from VINCI people who are making a difference for our environment, for today and for future generations.
Congratulations to all nine recipients who received their awards during the ceremony on 23 June.
Sources:
https://www.vinci.com/vinci.nsf/en/item/environment_awards.htm
https://www.vinci.com/vinci.nsf/en/item/discover-environmental-ambition.htm