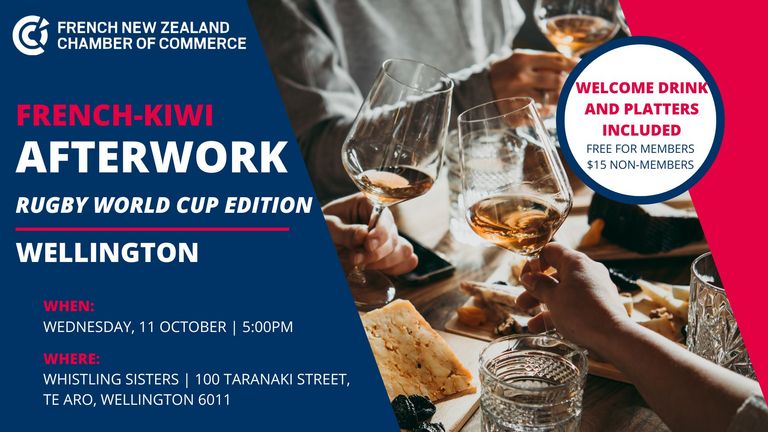 The French New Zealand Chamber of Commerce and Industry (FNZCCI) would like to invite you to attend its special Rugby World Cup French Kiwi Afterwork in Wellington. This will be your opportunity to hear about our recently news, next events and to facilitate a closer relationship and promote French culture and business activities in New Zealand. French Kiwi Afterworks are open to members and non-members. They are a great way to connect with the French-Kiwi community in an informal and friendly setup.
For this special edition, immerse yourself in the Rugby atmosphere of the Whistling Sisters Brewery to discuss past and upcoming World Cup games between the pools and the quarter finals. The Whistling Sisters are playing all France games in collaboration with the Alliance Française Wellington.
About this special rugby world cup edition:
🏉 Participate to our Rugby Lucky Draw and try to win a Gift Box from Barker's of Geraldine.
💬 Expand your network by meeting French and New Zealand businesses in Wellington
🌟 Opportunity to share with us your ideas and projects that you would like to see happening with the FNZCCI
🍻 Cash bar from the Brewery and food platters provided by FNZCCI
A share of the Whistling Sisters profits go to the Karen Louisa Foundation, funding research and treatments for advanced breast cancer.