During Bastille Week, enjoy a special French catering prepared by our best bakers, pastry chefs and delicacy providers!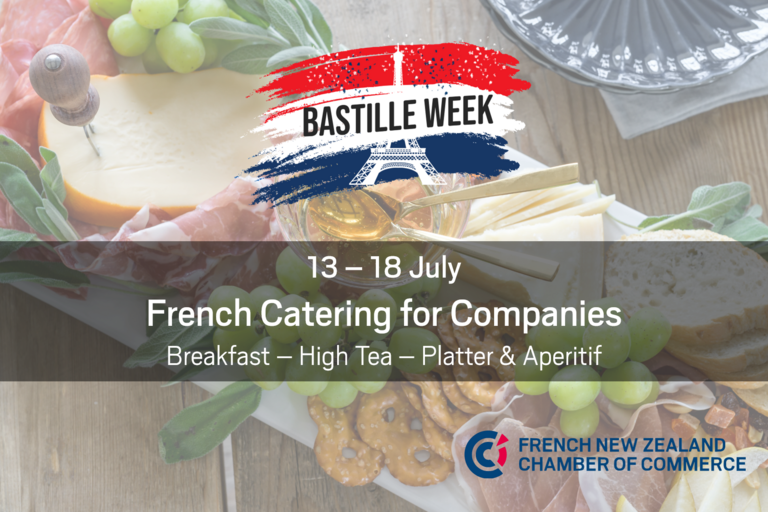 Wether you want to organise a teambuilding event, treat your employees/collegues or invite a client, enjoy this special French Catering deal for Bastille week! If you are interested, please contact Vincent at contact(@)fnzcci.org.nz or +64 211 793 614. We will be happy to discuss menus, prices, and all other aspects necessary to ensure your guests/employees have a great taste of Bastille Week.
---
Breakfast in Paris
Mini pain chocolat, chouquettes and madeleine citron.
From $13 per person
For 25 people : $325
For 50 people : $650

High tea in Versailles
Eat like a king with our high tea option. Hand-made canapés, decadent profiteroles, beautiful mini tarts and macarons.
From $11,5 per person
For 25 people : $287,5
For 50 people : $575

Apero Bordelais
After a long day of work, what better way to finish the day like the French with a true aperitif. A glass of red wine, a cheese platter, sourdough, Pâté, sirloin sliders and other options.
From $17 per person, wine additional
For 25 people : $425
For 50 people : $850
For the Fete de la bastille theme we can make tricolor Pastry like millefeuille with the color flag BLUE, WHITE,RED and decorate each platter with french flag and make it a french table for your event .