This executive lunch is an opportunity to meet peers from other industry, expand your network, strengthen ties and explore commercial opportunities.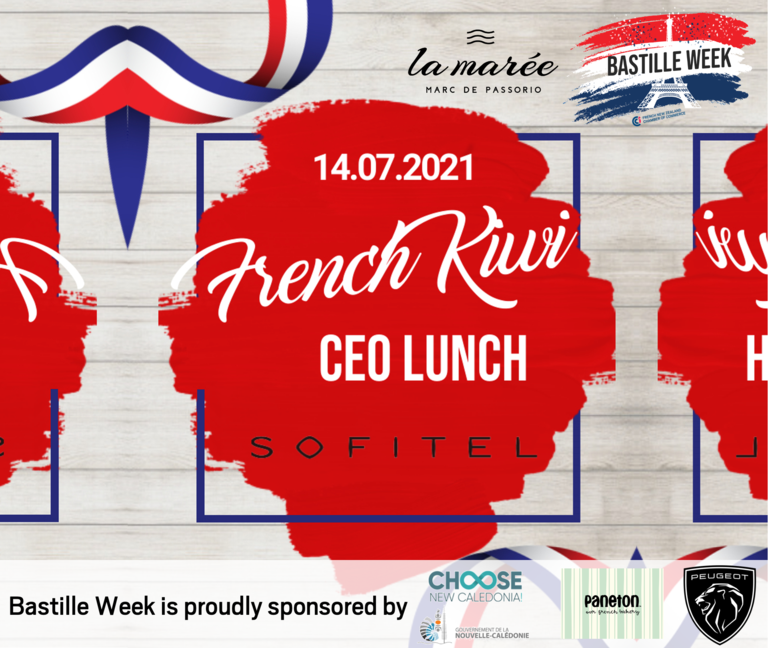 You will hear from the FNZCCI President Thibault Beaujot who will review and acknowledge the business relationship between the french and NZ companies.
- 13 Gold member tickets available.
- 8 Silver member tickets available.
- 5 non-member tickets available only.
if you have any inquiry regarding your membership please write to contact(@)fnzcci.org.nz
The 3 course menu will be paired with 2 wines. Please indicate any dietary requirements when booking your tickets.
Entrée
Your choice of
Langoustine grilled on the lava stones
Citrus caviar, fragrant fresh seasonal herbs, radish and vanilla vinaigrette
Or
Classic French onion soup
Served with melted garlic cheese baguette
Main
Your choice of
Waitoa free range chicken breast
Mushroom cream, seasonal vegetables with basil and orange sauce
Or
Line-caught Hauraki Gulf market fish
Seasonal vegetables, fennel cream, lychee and fleur de sel
Or
Mushroom and rocket risotto
Exotic mushroom, arugula and lemon confit
Dessert
Paris-Brest
Choux pastry, hazelnut and almond cream, hazelnut praline
About Sofitel Auckland Viaduct Harbour - Live the French Way:
Sofitel offers tailor-made services and splendid facilities that are stylish and cosmopolitan. Authentic and lively culinary experiences in La Maree by Marc de Passorio, soothing wellness journeys in Sofitel Spa, and exquisitely designed spaces that exude chic design with a hint of the French touch.
Bastille Week is proudly sponsored by Choose New Caledonia with New Caledonia Government, Paneton, Peugeot
​​​​​​​