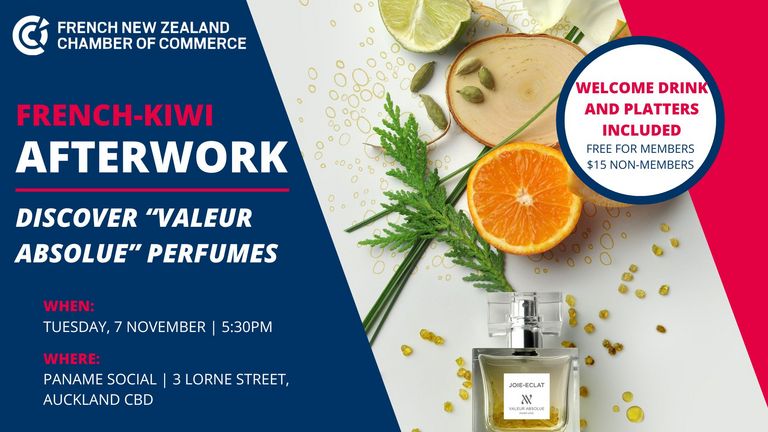 The French New Zealand Chamber of Commerce and Industry (FNZCCI) would like to invite you to attend its November French-Kiwi Afterwork in Auckland on Tuesday, 7th of November from 5:30PM at Paname Social, the new French Bistrot!
Valeur Absolue is Live in NZ! To celebrate the launch of the brand in New Zealand, FNZCCI would like to propose a special afterwork in collaboration with them:
🎁 Have a French perfume experience with Valeur Absolue collection and guess the ingredients or benefits of the products to win a bottle or a scented candle!
💬 Expand your network by meeting French and New Zealand businesses
🍷 Your ticket includes one welcome drink and complimentary nibbles
French-Kiwi Afterworks are open to members and non-members. They are a great way to connect with the French-Kiwi community in an informal and friendly setup.
Our French-Kiwi afterwork will be in partnership with Valeur Absolue is a luxury lifestyle brand that offers high-end perfumes boosting positive energy, thanks to their semi-precious stones and active natural ingredients. Develop with the utmost respect for our skin and the planet.
Valeur Absolue products represent a certain idea of luxury, all in refinement and sobriety. They are more than perfumes, revealing our deep nature, in all its complexity and contradictions.
The Founders story
With a career in luxury and beauty and having interviewed hundreds of women from all over the world, Benedicte Foucart, founder of Valeur Absolue, identified the need for a different approach to perfumery: one that is healthier, anchored in sustainable values, born of meaningful creativity. Drawing on ancestral knowledge and partnering with arachnologists, lithotherapists, neuroscientists, and exceptional perfumers, Benedicte created the collection of Valuer Absolue elixirs of well-being.
Her ambition is to transform the perfume gesture into a scented ritual, creating positive energy, so that each woman can draw on what she needs to express her different facets, her 'absolute self.'
Carefully selected natural ingredients known for their positive virtues on human psychology, make Valeur Absolue the ultimate combination of fine perfumery and well-being.
Smell divine. Feel intensively well. Share the beauty of responsible luxury- these are the three promises held by Valeur Absolue.
Event Location