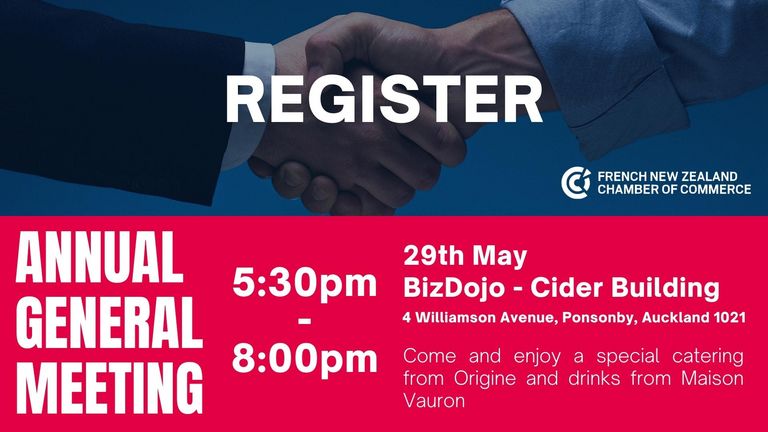 The FNZCCI invites its members and friends* to a special event, to reconnect with the French-Kiwi business community during out catering and drinksat the occasion of our 2023 Annual General Meeting.
Come and join us for a long-awaited catch up in BizDojo - Auckland, Cider Building, while we look back upon our achievements of the past year and present our objectives for the next!
This will also be your opportunity to elect your new FNZCCI Board, or even present your own candidature. Please refer to the information and documents below and if you have any further questions, contact us.
The Annual General Meeting will also be available via ZOOM, if you are unable to attend in person. If attending via ZOOM, please indicate when you register and the link will be sent to you.**
! Please note that seating is limited, with standing room available. Please indicate upon registration whether you will require seating.
! We kindly request that you register by Friday, 21 May 2023 in order to finalise catering.
We can't wait to see you all there!
*Please note that only FNZCCI members are eligible to present their nominations for Board Member 2022-2023, as well as vote in the election or approve motions.
**FNZCCI members attending via ZOOM will need to designate a proxy who will be present in person to vote on their behalf.
Please find below the download links for the following documents concerning the FNZCCI 2022 Annual General Meeting:
Key dates to remember:
Tuesday, 10 May 2022:
Deadline for any Member wishing to table a motion or business for discussion under Item 6, General Business, of the Agenda as per Clause 13.4 (in writing to Thibault Beaujot, president(@)fnzcci.org.nz)
Tuesday, 17 May 2022:
Deadline for the submission of nominations for office holders 2022-2023 (please email the completed form to info(@)fnzcci.org.nz)
Monday, 23 May 2022:
Deadline for the designation of a proxy to vote in your absence, or if you attending via ZOOM (please email the completed form to info@fnzcci.org.nz)