Le Paris French Eatery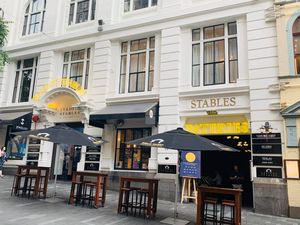 Le Paris is your French eatery in the CBD, born from a passion of FRANCE and her culinary art.
Specialising in savoury galettes and sweet crepes as well as classical French cuisine, Le Paris hopes to transport you into a bistro on the glorious Champs-Elysées as you savour some of their authentic French delicacies. They aim to use some of New Zealand's best ingredients to recreate traditional recipes as well as utilising some of the best French produce ranging from cheeses to snails in order to provide a genuine taste of France on a plate with a Kiwi touch.
Their French Head Chef Christophe is happy to share with you his 30 years of French culinary experience.

They are very proud of their heritage and hope they can expose to Kiwis how wonderfully delicious French cuisine can be, so whether it's for a Coq au Vin or just for a sweet crepe and a coffee, come enjoy a taste of Paris right here in Auckland city.
Meet the team:
Founder-Director: Leilani AUMERAN
Director: Pualani JACQUEMET
Head Chef: Christophe JACQUEMET
Le Paris French Eatery
39-41 Elliott Street, Auckland CBD, Auckland 1010
Monday to Thursday: 11:30 am - 2:30 pm // 5:30 pm - 9 pm
Friday to Sunday: 11:30 am - 2:30 pm // 5:30 pm - 9:30 pm
Phone: 09 963 8396
SOCIAL MEDIA:
---