French Kiss Wellington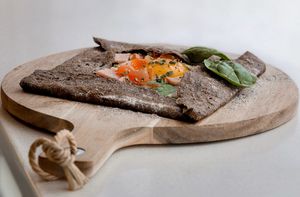 French Kiss Creperie adventure started 2,5 years ago when Pierre Emmanuel (French living in New Zealand since 2016 as engineer) met Charly who suggested the idea of bringing french cuisine in New Zealand malls.
After a few months the idea became reality at Queensgate shopping center in Lower Hutt (Wellington region) where they have open their first shop in June 2019.
Even though they didn't expect this mondial pandemic which affect a lot of businesses especially in hospitality, French Kiss Creperie is running and now becomes the local dessert place to be in Lower Hutt.
They offer a range of yummy sweet and savory crepes (galettes) and our focuses are:
- To promote local suppliers (eggs, honey, ham, fruits and veggies…), even their packaging supplier is based in Lower Hutt
- To challenge Kiwis and get them to try the savory galettes following our typical Brittany recipe
For all Wellington region inhabitants or travellers, come to visit their kiosk and try one of their crepes!
French Kiss Creperie
Queensgate shopping center, Lower Hutt 5011, New Zealand
Monday: 9:00 am - 5:30 pm
Tuesday: 9:00 am - 5:30 pm
Wednesday: 9:00 am - 5:30 pm
Thursday: 9:00 am - 8:30 pm
Friday: 9:00 am - 8:30 pm
Saturday: 9:00 am - 5:30 pm
Sunday: 10:00 am - 5:00 pm
SOCIAL MEDIA:
---