Paneton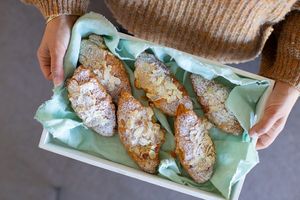 It's a story of love, french baking, and the love of french baking!
Dominique Colombie learned the art of making pastry from his father, whose Patisserie Colombie was an institution in the village of Montesquieu-Volvestre in South-west France. He later met his wife to be Celia Elder, in Paris. She too shared his love of fine French cuisine and together they dreamt of one day establishing a business in New Zealand inspired by their passion for French baking.
Returning to NZ in 1986 they set up La Tarterie in Khyber Pass in Newmarket, Auckland specialising in savory tartes (quiches) and sweet tartes (lemon, almond etc.) Their hard work paid off, and with total customer focus and quality baking, their little cafe became so popular there was often a queue out the door! Their quiches and croissants became rightfully famous.
Today, Paneton enjoys success as NZ's leading French Bakery combining the best traditional French baking with the best New Zealand ingredients. They have built on their range of traditional French bread and patisseries by now offering Ready to Rise (frozen) pastries and Ready to Bake (parbaked) breads for the convenience of customers anywhere in New Zealand.
Paneton
Address: 1/21 Halsey St, Freemans Bay, Auckland
sales(@)panetonbakery.co.nz
(09) 3095338
We are delivering to Auckland areas on the following days:
Sunday/ Monday – No delivery
Tuesday – North Auckland
Wednesday – Central Auckland
Thursday – West Auckland
Friday – South and East Auckland
Saturday – Central Auckland
SOCIAL MEDIA