The Chamber
FNZCCI ANNUAL GENERAL MEETING - 15 May 2019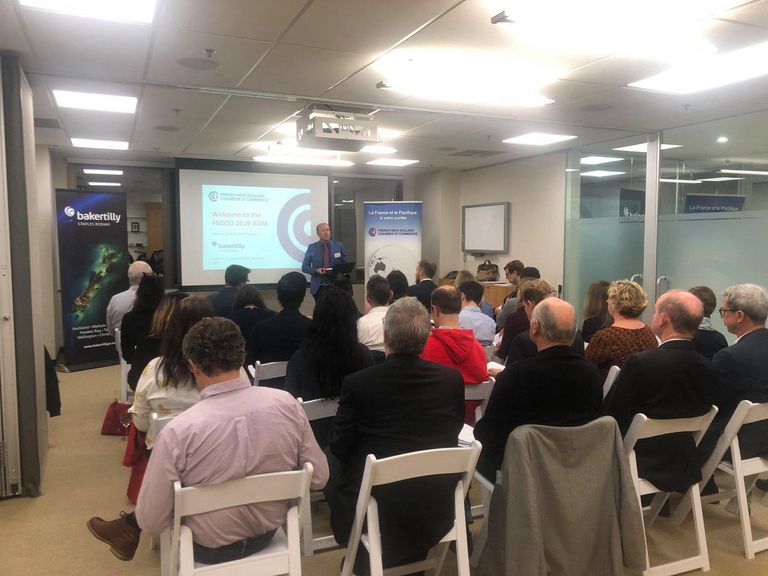 The French New Zealand Chamber of Commerce and Industry (FNZCCI) held his Annual General Meeting last Wednesday evening, 15 May 2019 at the offices of Staples Rodway.
Thibault Beaujot presented his Annual Report as President, outlining the actitivies for the 2018 – 2019 year.
Thank you to all who participated in this tremendous year: members, sponsors, volunteers and organisations.
The board for the 2019 – 2020 as below
• President : Thibault BEAUJOT
• Vice President : Madeleine Colombie
• Vice President : Frederic Boles
• Treasurer : Pascal Gamet
• Board Members : Helene Toury, Marc Dehe, Jean-Eudes Lepelletier, Benoit Midol, Zoé Pajot - Mellano, Kaison Chang, Elly Molavy & Charlotte Fleetwood-Smith.
Ex-Officio :
• Scott James - New Zealand Trade and Enterprise Georgina Roberts
• Joe Fuavao - New Zealand Ministry of Foreign Affairs & Trade
• Vanessa Bonnet - Direction générale du Trésor (French Treasury)
• Yves Lafoy - New Caledonia Govt.
• Michael Greenslade - Pacific Trade Invest New Zealand
• Don Mann - Pacific Cooperation Foundation (PCF)
Recognition was given to the board members who resigned : Nadine Plet,Filza Tariq, Anishta Permalloo, Corentin Celbert & Rhys LEWIS