Communication - Press • Events • Publications • Members • VIP event • Networking • Company visit • Grocery & Catering
Business Awards : Vote for your favourite business !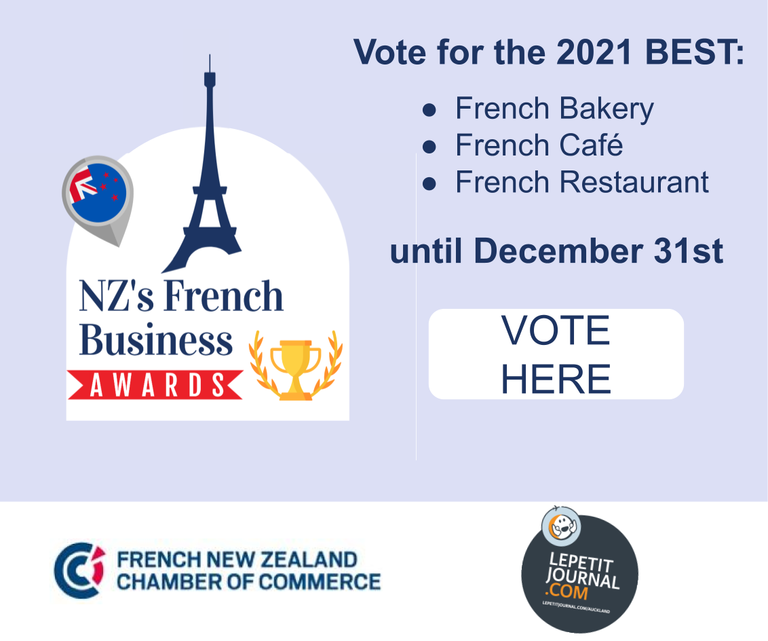 After a difficult year-end related to covid-19, support your favourite businesses by taking part in the votes !
Co-organised for the 2nd year with the French New Zealand Chamber of Commerce and Le Petit Journal Auckland, NZ's French Business Awards honour New Zealand's French cafés, restaurants and bakeries/pâtisseries ☕
The 15 participants who entered the competition have until the 31st of December to collect a maximum of votes from their customers. The event description and participants list can be found here.

Best French Cafe Category :
Wander café Bistro: https://lnkd.in/dW588wYZ
Le Café de Paris: https://lnkd.in/dnVZwS_M
Tartines French Cafe: https://lnkd.in/d4zCJNmY
Casse-Croute: https://lnkd.in/dbCyTS-x
Little French Pastry: https://lnkd.in/db4Q4j2w

Best French Restaurant Category :
Le Paris French Eatery: https://lnkd.in/d2NAgYFq
French Kiss Wellington: https://lnkd.in/d7-bRQty
French Rendez-vous: https://lnkd.in/d2Fq_Hmn
La Marée Sofitel: https://lnkd.in/dhttNTwx
Poivre et Sel: https://lnkd.in/ehter2t2

Best French Bakery Category :
Monsieur Macaron: https://lnkd.in/dg6cxqYa
La Petite Fourchette: https://lnkd.in/dxR6NucD
Vaniyé Patisserie: https://lnkd.in/ddnUUyAW
Ma Petite Bakery: https://lnkd.in/dNHSiww2
Paneton French Bakery: https://lnkd.in/e8veZamN