Come to meet Veolia and discover how they deliver concrete solutions.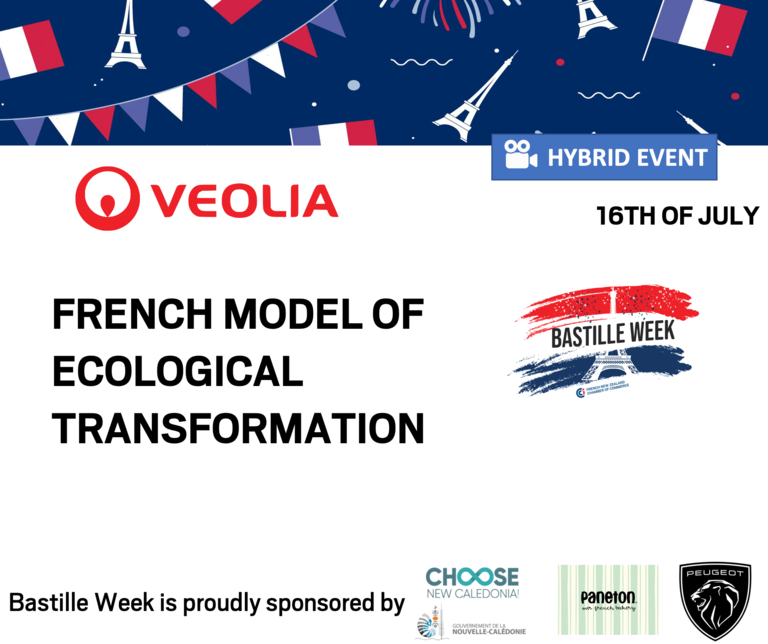 New Zealand is heading towards carbon neutrality, enhanced resources preservation while supporting the growth of its FMCG production, especially for exportation. Customers' awareness about the circular economy is increasing and puts pressure on both public and private stakeholders to deliver the Sustainable Development Goals.
Are you tired of listening to "what to do"? Are you ready to get involved in how we deliver concrete solutions?
We are thrilled to invite you for a breakfast presentation on the Veolia purpose and our commitment to being a leader of the Ecological Transformation. Several members of the Veolia New Zealand leadership team will provide more insights on how a collaborative approach can unlock game-changing solutions.
Agenda:
Introduction: Veolia capabilities worldwide and in New Zealand
Our know-how for the industrial markets
New Zealand success stories
Delivering ecological transformation in New Zealand
Followed by a Q/A session
Bastille Week is proudly sponsored by Choose New Caledonia with New Caledonia Government, Paneton, Peugeot