Ne ratez pas notre prochaine édition du Frenchy du Civil ce 7 septembre!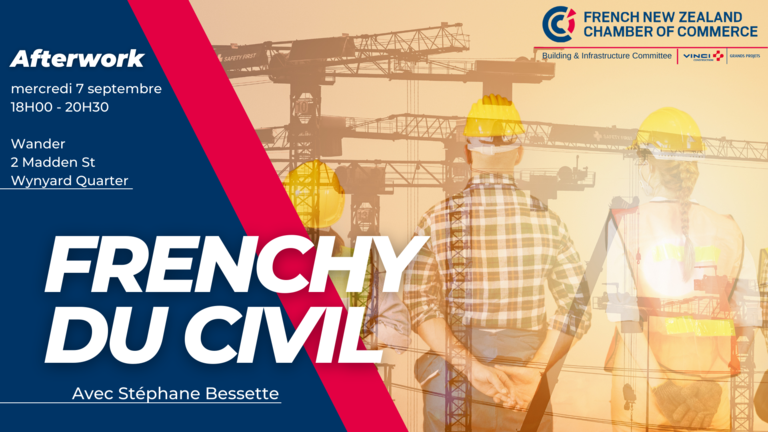 Cet évènement, organisé avec le soutien du comité "Building & Infrastructure" de la French New Zealand Chamber of Commerce and Industry (FNZCCI) et Stéphane Bessette de TDX, est ouvert à tous les francophones actifs ou diplômés dans les domaines du bâtiment et du génie civil, sur invitation uniquement.

Nous vous proposons de se retrouver pour l'apéro chez Wander (2 Madden Street, Wynyard Quarter), le mercredi 7 septembre à partir de 18H00.

L'inscription à cette soirée permettra de bénéficier pour $20.90 d'une boisson et des amuse-bouches. Un cash bar avec des tarifs intéressants sera disponible pour des boissons supplémentaires.
* Pour les nouveaux francophones qui ont rejoint la liste de diffusion: les Frenchy du Civil ont lieu chaque trimestre, normalement dans le format d'un afterwork. Ce sont des moments d'échange autour des nouvelles du milieu de la construction et du génie civil. Mais aussi l'occasion de partager les activités respectives de chacun, le tout dans une atmosphère conviviale.

** Si vous connaissez des français ou francophones de notre secteur d'activité ne faisant pas encore partie du groupe de distribution des invitations par email, n'hésitez pas à nous envoyer leurs coordonnées à event(@)fnzcci.org.nz pour que nous puissions leur faire parvenir une invitation.